"The best way to predict your future is to create it."
That's why the members of the Kentucky Pharmacists Association are undertaking a capital campaign to improve the visibility, stature and role of all pharmacists. Through "The Campaign for Kentucky's Pharmacy Future," we will purchase, reconfigure and equip the Association's new headquarters building.
This campaign is about a building and so much more. We're investing in our future as pharmacists. From hospitals to retail to independents to academia — as pharmacists, we all share the same mission and goals.

Committee of 100 Members ( as of

06/27/2017

)
Join the Committee of 100 to jump start the Campaign for Kentucky's Pharmacy Future!
YOU are invited to join The Campaign for Kentucky Pharmacy's Future to assure our collective success as a member of the Committee of 100 Pharmacy Founders. Donations or pledges at this level start at $5,000 and are payable in whole or in part over the next 5 years. Make your name the next on the list!
Jeff Arnold
William R. Brown
Fred Carrico
Matt Carrico
Leon & Margaret Claywell
Chris & Katy Clifton
Kim & Bob Croley
C. Michael Davenport
Marshall Davis
David Dubrock
Paul Easley
Renie & Joe Fink
Matt Foltz
Tim Ford
The Goforth Family
George & Burnetta Hammons
Chris Harlow
Jefferson County Academy of Pharmacy
Michael & LeeAnn Keller
KPhA First District
Don & Vicki Kupper
Phil & Julie Losch
Joe Mashni
Bob Oakley
Pete Orzali
Duane Parsons
Ron & Lisa Poole
Donnie Riley
Richard Slone
Zena Slone
Lewis & Kim Wilkerson
Sam Willett
Mary Ann & Michael Wyant
Donation Levels for KPhA and KPERF Building Fund Campaign
Diamond Bowl of Hygeia
$100,000+
Platinum Bowl of Hygeia
$75,000-$99,999
Gold Bowl of Hygeia

– J. Leon & Margaret Claywell

- The Goforth Family

$50,000-$74,999
Silver Bowl of Hygeia

– Sam Willett

- Michael & Mary Ann Wyant

$25,000-$49,999
Bronze Bowl of Hygeia

– Jeff Arnold

- David Dubrock

- George & Burnetta Hammons

- Jefferson County Academy of Pharmacy

- Duane Parsons

- Richard & Zena Slone

$10,000-$24,999
E.M. Josey Memorial

– Fred Carrico

- Matt Carrico

- Chris & Katy Clifton

- Marshall Davis

- Paul Easley

- Renie & Joe Fink

- Matt Foltz

- Chris Harlow

- Don & Vicki Kupper

- Phil & Julie Losch

- Joseph Mashni

- Bob Oakley

- Ron & Lisa Poole

- Lewis & Kim Wilkerson

$5,000-$9,999
Cornerstones
$2,500-$4,999
Builders

– Ray Bishop

- Jessika Chinn

- Cynthia Gray

- Chris & Consuelo Palutis

- Leah Tolliver

$1,000-$2,499
Brick Layers

– Brian Fingerson

- Trish Freeman

- Andrew & Virginia French

$1-$999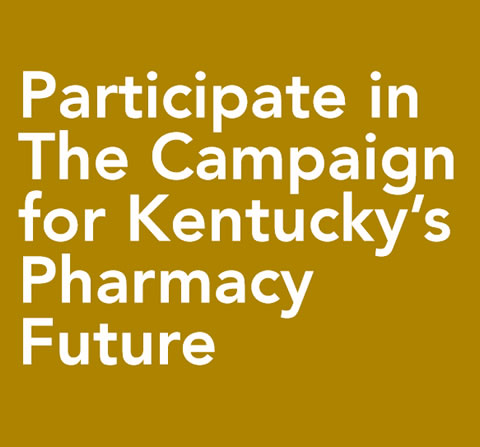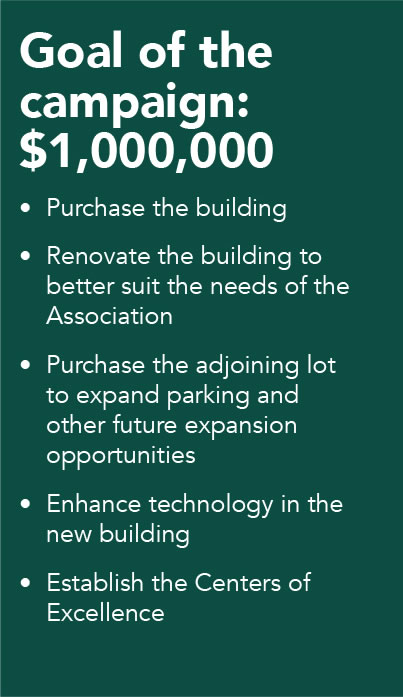 Naming Recognition Opportunities
| | |
| --- | --- |
| Building Naming Rights | $300,000 |
| Room for Growth | $200,000 |
| Executive Board Room | $100,000 |
| Courtyard | $50,000 |
| Pharmacy Museum Exhibit | $50,000 |
| Small Conference Room (Claimed) | $25,000 |
| Employee Lounge | $25,000 |
| Student Research Office | $25,000 |
| Executive Director Office (Claimed) | $25,000 |
| Main Lobby | $25,000 |
| Technology Op Room | $25,000 |
| Individual Staff Offices | $10,000 each |
| KPhA Wall of Excellence | $10,000 |
| KPhA Wall of Presidential Leadership | $10,000 |
| Event Logistics Room | $10,000 |
Expanded Education and Outreach Centers

| | |
| --- | --- |
| Center for Excellence in Pharmacy Continuing Education | $100,000 |
| Center for Pharmacy Management & Entrepreneurship Training | $100,000 |
| Center for Medication Therapy Management Research | $100,000 |
| Center for Innovation in Pharmacy | $100,000 |
| Center for Prescription Drug Abuse Awareness | $100,000 |
| Center for Excellence in Medication and Patient Safety | $100,000 |
| KPhA Legislative Information Center | $75,000 |
| Library & Pharmacy Resource Center | $50,000 |
Other Commemorative Options
| | |
| --- | --- |
| The Kentucky Pharmacist Journal Endowment | $25,000 yearly |
| Center for Continuing Pharmacy Education Technology Enhancements | $25,000 |
| Conference Room Table | $10,000 |
| Flag Pole (Claimed) | $5,000 |
| Museum Exhibit Cases | $5,000 each |
| Library Book Shelves | $5,000 each |
| Front Desk | $5,000 |
| Center for Continuing Pharmacy Education Tables | $1,000 each |
| History of Pharmacy series By Robert Thom Framed Print Recognition | $1,000 each |